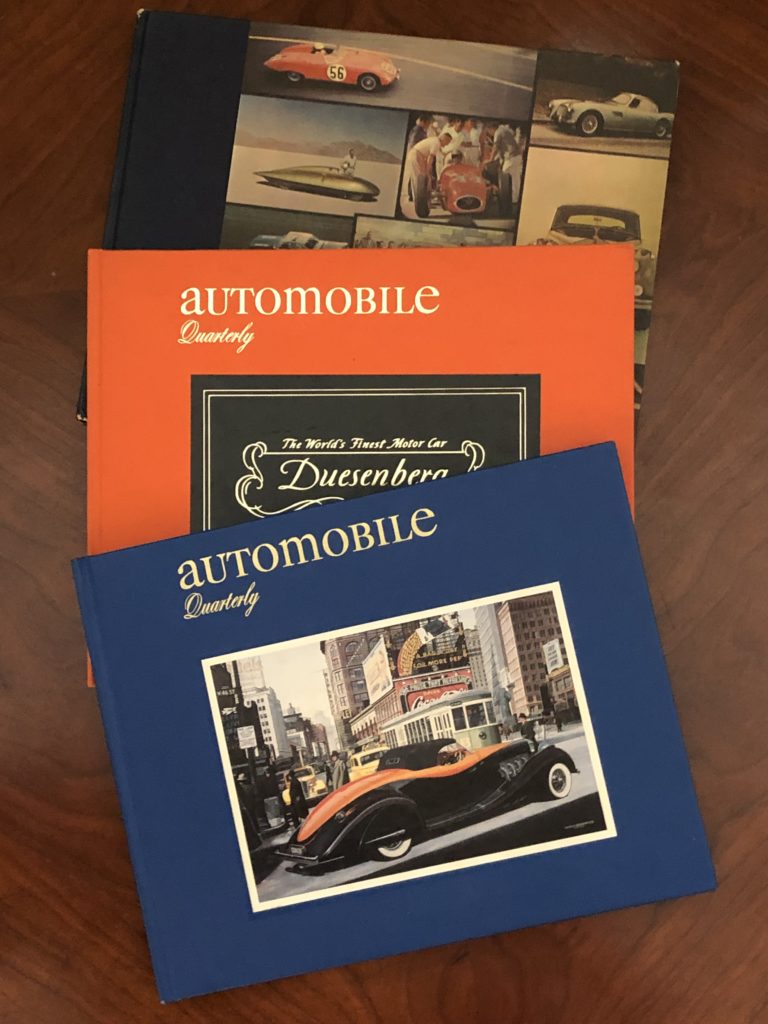 There once was a magnificent publication named Automobile Quarterly.  Four issues per year, hardbound in leather.  The subscribers name could be embossed in gold leaf on the front cover.  Inside the covers were photography and paintings by the finest automotive artists, articles by the most distinguished automotive writers, and first-person accounts by people who had made the automotive history about which they wrote.  The subtitle of the publication summed its content perfectly: "The Connoisseur's Magazine of Motoring Today, Yesterday, and Tomorrow.  If you missed it when it's published, now is the time for rediscovering Automobile Quarterly.
The publication stayed true to its promise for fifty years – and then it ended.  Volume 52, number 1 was the last issue.  Automobile Quarterly, after ownership changes and the death of its founder, faded away.
Fast forward to now.
It is hard to avoid hearing about the "Volo Auto Museum" in Volo, Illinois.  It advertises widely for both the museum and its classic car sales room.  We thought a trip to the museum would be a great way to spend a day.  There was even a bonus:  an enormous antique mall is located adjacent to the museum.  While the lure of old cars captivates the present writer, the appeal is rather less for his devoted spouse.  But antique malls – that's a different story.  With the prospect that time in the museum would be rewarded by time browsing antiques, the expedition was a go.
The Volo museum is mostly a collection of automotive celebrity and movie cars, but not really attuned to core interests of those intensely interested in automobiles or their history.  On display are the Bentley convertible Oprah drove in the rain with the top down, the Rolls-Royce stored for the next visit by Princess Diana  – a visit that never occurred, one of the many "General Lee" Dodge Chargers used on in the Dukes of Hazard on television, a Volkswagen "Herbie" used in the Disney movie, a "Back to the Future" DeLorean – you can visualize the rest.  Mostly, Volos's museum is an adjunct to a collector car sales operation that seems to specialize in vehicles with optimistic price tags.
The antique mall, however, is the real deal.  Several large buildings offer an enormous variety of antiques.  We've returned to Volo twice, but not for the museum.  We go back for the antiques.  On one visit, the treasures brought home included a state-of-the-art automotive diagnostic instrument – state- of-the-art for the 1960's, that is.  Quite perfect to use when performing a tune-up on the 1966 Riviera.  Another trip yielded a book canvasing William Harrah's collection of classic automobiles, a collection that included two Type 41 Bugatti's.  Harrah died in 1978 and is considered by many the man who most advanced the art of restoring classic automobiles to be factory correct in every detail.
Think of antique malls as the place to go for automotive "barn finds" that aren't cars.
The most recent expedition uncovered eighteen issues of Automotive Quarterly, dating from Volume 3, purchased for $90.00.
If you have not discovered Automobile Quarterly, you should.   It is automotive journalism, automotive history, and automotive art by those of an intimacy and quality seldom found in a periodical.   The very first issue – Volume 1, number 1 – featured Duesenburg.   This was a marque to which the publication returned often, including Volume 30, number 4.  That issue opened with a biography of Fred Duesenburg written by Randy Ema.  Ema holds eight class wins at the Pebble Beach Concours elegance and is a historian with vast knowledge of Duesenburg history.  (Hagarty.com once referred to him as the "Ph.D. of ACD.")  A biography of August Duesenburg is next, followed by an extensive history of each Duesenburg model – A, J, and SJ – and of the brothers and the company, including the Duesenburg racing history.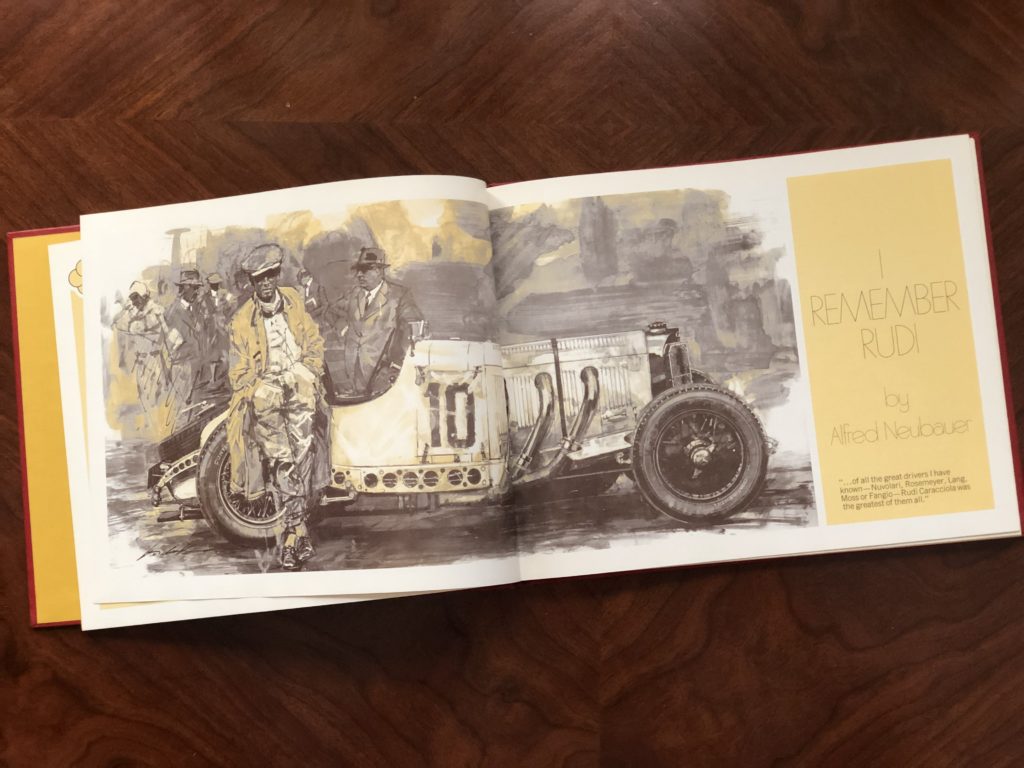 Automobile Quarterly focused on people as well as automobiles. An example is Volume 7, number 1.  The painting embedded into the leather cover is of Rudolph Caracciola, legendary driver for Mercedes-Benz Grand Prix teams of the 1920's and 1930's.   A driver with exceptional skill, particularly on a wet track, Caracciola won multiple world championships.  Perhaps his greatest accomplishment was surviving, as he drove in an era when Grand Prix race tracks were lined with trees, driving suits were silk, and crashes quite often fatal.  The featured article is a remembrance written by Alfred Neubauer.  Neubauer knew details of Caracciola's career as few could.  He was the team manager for the Mercedes-Benz Grand Prix team during the years Caracciola drove for Mercedes.  Neubauer's racing biography of Caracciola is followed by one from a different perspective.  It is written by Alice Hoffman, the glamorous time-keeper for the Mercedes team.  She ultimately married Caracciola (though she'd been close to Louis Chiron, the Bugatti driver after whom that marque's latest model is named, before meeting Caracciola).  She shares insights that display Caracciola's fearless tenacity in racing and how their mutual devotion to each other sustained Caracciola through some of the most difficult times in his career, including recuperating from crashes that left him hospitalized for months.
Next is an article written by another Grand Prix champion, Phil Hill.  Truly appreciating the talent, skill, and courage required to win in a Grand Prix race car of the 1920's and 1930's requires understanding how difficult it was to drive those cars at racing speeds.  Hill explains what it is like to drive the Mercedes-Benz SSK, the supercharged supercar of its era in which Caracciola got his start with the Mercedes-Benz team.  The issue also features paintings by Walter Gotschke, one of the most prominent automotive artists of any decade, illustrating Caracciola behind the wheel on some of the most legendary European circuits of the pre-War years.
That is merely the first half of that volume.   The volume also includes a retrospective by Howard "Dutch" Darrin's describing his years as a designer of automobiles, first of bespoke bodies for cars now considered classics (including is partnership in Paris with Tom Hibbard as Hibbard and Darin) and later custom automobile bodies for Hollywood celebrities and production automobiles, including the Kaiser-Darrin.  It is a genteel tale of self-promotion that was frequently successful and always entertaining.
Automobile Quarterly captured those who made automotive history recounting events that were still vivid in their memories.  Part of its charm is that classic automobiles were then still tangible as automobiles created to be driven.  Those who wrote about them experienced them as automobiles, not static investments.  They write about them as automobiles experienced and enjoyed.
Automotive Quarterly is out of print, of course.  But it is still very much available – and at a nice discount to the original subscription price.  If searching antique malls isn't your thing, then eBay is your friend – even full sets of Automotive Quarterly are available online.   Individual copies seem to average about $5.00.
Rediscovering Automobile Quarterly is habit forming.  Once you start, you'll probably want to collect them all.
I do.
UPDATE:  New back issues of select volumes of Automobile Quarterly are available through the website of the Society of Automotive Historians.  This appears to be the last cache of unsold Automobile Quarterly issues extant.