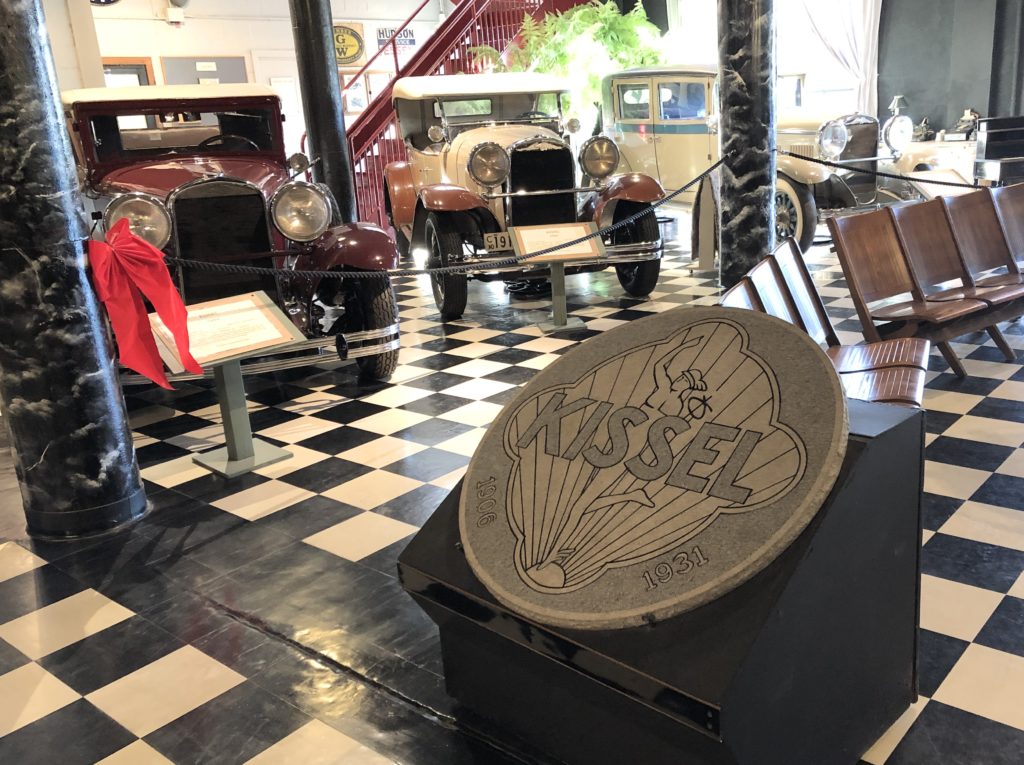 Fifteen percent of all Kissel automobiles remaining in the world are in Hartford, Wisconsin.  Kissel was a prestige automobile known for quality and value, even style, produced between 1907 and 1931.  Hartford was – and still is – home to Kissel.  Over 27,000 were produced at the Kissel plant there.   About 150 survive, of which 25 are on display at the Wisconsin Automotive Museum in Hartford.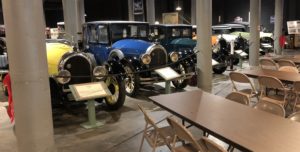 Today, Kissel is best known for the model 6-55, nicknamed the "Golden Bug" for its bright yellow color.  A two-seat speedster, the Golden Bug is considered a full classic by the Classic Car Club of America.  In its day – the 1920's – it was the automobile of choice for some of the era's most renown celebrities.  Amelia Earhart drove one.  So, too, did heavy weight boxing champion Jack Dempsey, Indianapolis 500 winner Ralph DePalma, band leader Eddie Duchin, and film stars Greta Garbo, Ruby Keeler, Al Jolson, and Mary Pickford.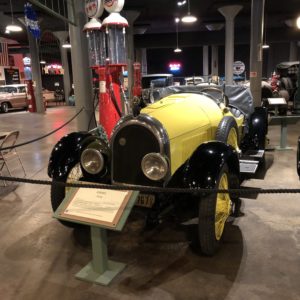 You can't miss the Golden Bug in the Museum's collection.  A 1923 model, it begins a display of 1920's Kissels that includes a 1927 Brougham, a 1926 four door brougham, a 1926 "All Year" coupe roadster, and a 1925 "Enclosed Speedster" painted an exquisite dove grey with dark grey accents – perhaps the most elegant Kissel on display.
Nearby, earlier Kissels are displayed, among them a 1912 "semi-racer" that was one of the first Kissels to emphasize speed and performance.  A wing off the Museum lobby features Kissels from the marque's declining years:  a 1929 model and two of only four surviving 1930 models.
The evolution of the Kissel brand and the breadth of its model range is on vivid display in Hartford.  The vehicles tell the story of a small company that prospered, for a time, in the shadow of automotive giants, only to fail when producing quality became unaffordable.  (For more about Kissel, see our post about Kissel's role in production of the Ruxton.)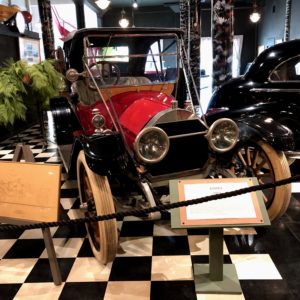 This is, however, the Wisconsin Automobile Museum – not the Kissel museum.  The Museum celebrates all of Wisconsin's automotive heritage – including its racing history.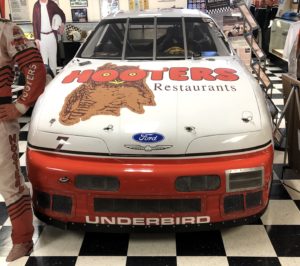 Front and center in the Southeastern Wisconsin Short Track Hall of Fame, located on the second floor of the Museum, is one of Alan Kulwicki's NASCAR Winston Cup Thunderbirds – with the name  "underbird" on the front bumper cover.  The Hall of Fame's display also includes an homage to Dick Trickle and two cars that bookend what many consider the prime of Matt Kenseth's career: the Monte Carlo he drove to his first NASCAR win, prepared by Robbie Reiser, and the last car Reiser prepared for Kenseth, a Rouch Ford.
There is another automobile associated with Wisconsin:  Nash.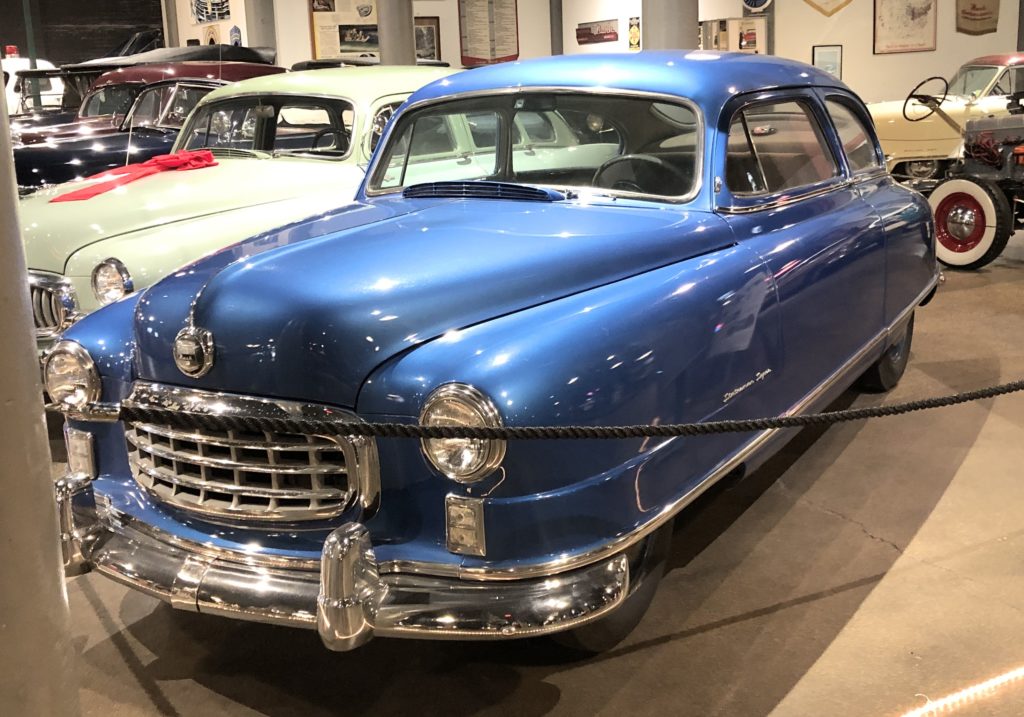 Nash may be a distant memory today – but it is a featured brand at the Museum.  They even have a new one, on loan to the museum and prominently displayed with other Nashes on the Museum's first floor by the Nash Club of America.  It is a 1950 Nash Stateman Super Airflyte two-door sedan.
It has 61 miles on the odometer.
You've heard about the "little old lady who drove the car only on Sundays to church?  (Not the one with the shiny new Super Stock Dodge.)   The lady that bought this Nash intended to use it to learn to drive, an intent she never realized.  The vehicle was towed from one home to another as she moved, never driven .  Eventually, it was purchased by a Club member who has preserved it as new.
Nash history is rooted in Wisconsin.  Produced in Kenosha, Nash merged with Hudson in 1954 to create American Motors Corporation.  in 1957, the Nash and Hudson names were dropped by AMC's President, George Romney, in favor of the "Rambler" name for all American Motors automobiles.  Thus, the circle was closed:  Nash was founded in 1916 when Charles W. Nash bought the company that manufactured the Rambler automobile and Jeffries trucks and dropped the Rambler name in favor of his own.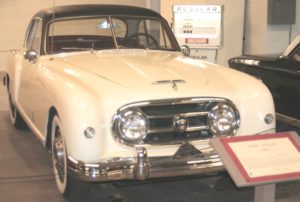 But it is Nash, not Rambler, that gets the spotlight at the Wisconsin Automotive Museum.  In addition to the first floor display, a Nash Healey is featured in a second floor display of performance and sports cars.  (That display also includes a later effort by American Motors to shed its stodgy image: the Javelin.)
The Hudson Essex Terraplane Society also exhibits at the Museum.  On the first floor is a 1949 Hudson Commodore Custom Eight – an automobile that turned out to be the brand's apogee.  This is the remarkable "step down" Hudson, the car that in racing form dominated NASCAR in the early 1950's and pioneered unitized body construction.   An homage to it's NASCAR successes and it's later fame i: s displayed on the Museum's second floor:  a Hudson restored as "Doc Hudson" of the animated film "CARS."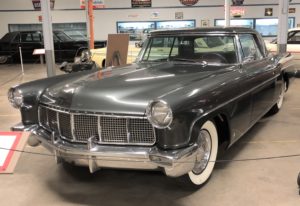 The Museum also houses a large and varied collection of other automobiles, some rare, all interesting.  These include a 1969 Camaro with the Z11 Pace Car option, a Continental Mark II, and two automobiles that remind us that Chrysler really invented tail fins: a 1960 Chrysler flanked by a 1961 Imperial.  Two Kaisers are on display – a Virginian, the top of the Kaiser line, and the unique Vagabond that was designed with seat that folded down and a rear hatchback instead of a trunk – just like an SUV today.   The collection of brass era automobiles includes a Maxwell and a Dodge Model 30, the first automobile built by the Dodge Brothers under their own brand.  That car set the stage for the  courtroom battle of automotive titans described in earlier Automobile Chronicles posts.  (Be sure to read the sequel, too.)
The Wisconsin Automotive Muesem is located at 147 North Rural Street in Hartford, which is about 40 miles Northwest of Milwaukee.  It is open until May 1st from Wednesday through Sunday, holidays excepted.  After May 1st, it is open 10 a.m. to 5 p.m. daily, except Sunday, when it opens at noon.  Information is available through their website.
It is a special place.  Take all the pictures you like and ask all the questions you want of the Museum volunteers who truly enjoy sharing their joy in the Museum with visitors.   There is a sense that taking time is important here, that you shouldn't rush, and that you should savor what they have for you to see and appreciate.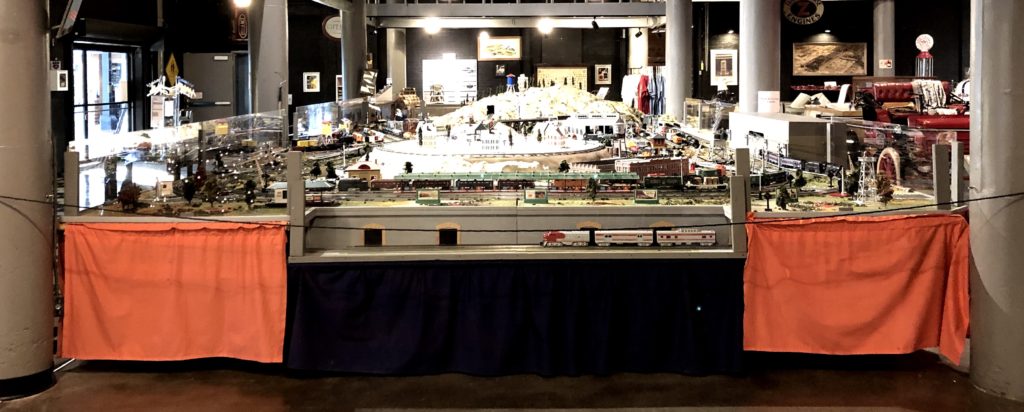 Oh, and there's one other display at the Wisconsin Automotive Museum you cannot find in any other automobile museum anywhere – not even at that other wonderful Wisconsin automotive museum, The Automobile Gallery in Green Bay.  The first thing you see when you walk into the Wisconsin Automotive Museum in Hartford is a gigantic operating Lionel O gauge train layout.
Even before I wanted cars, I wanted that train layout.  It is a duplicate of the one Lionel had in their corporate showroom in the early 1950's.
I still want it.