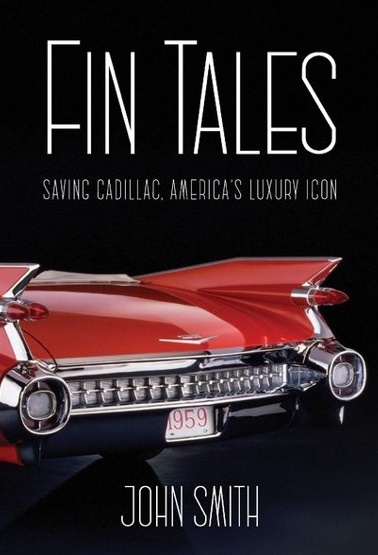 Fin Tales is chatty, engaging, and easy to read.  Written by John Smith about his experiences as General Manager of Cadillac, Smith's story is one of rescuing the Cadillac brand from what appeared to be its certain demise, first by pushing for introduction of the Escalade against General Motors' foolish "brand management" strategy and then by creating the "Art and Science" theme for Cadillac's styling, model positioning, and promotion.  Rescuing Cadillac required bucking a General Motors management isolated in a culture of its own creation, oblivious to its competition and its customers, a management convinced that the company's diminishing sales could be reversed by perpetuating its mistakes.
There are wonderful stories in the book, including how Smith ultimately obtained corporate approval for the Escalade.  The "brand management" approach dictated by corporate executives did not allow Cadillac to have a SUV – even as Lincoln was creating the market for luxury SUVs with the Navigator.  As far as General Motors corporate executives were concerned, divisions were to market only those vehicles that fit into the definition of their market dictated by corporate "brand managers."  Customers did not define the market.  Executives defined the market.
These brand managers defined the SUV as a truck.  Trucks were for Chevrolet and, if an upscale purchaser, for GMC.
In the end, Cadillac got its SUV – and, no, I'm not going to tell you how Smith pulled that off.  The proceeds from sale of the book go to a charity Smith supports, so you should buy the book to get the details.  Suffice it to say that Smith had an ace that he wisely waited to play until the last minute, when it was too late to for the top executives to trump it.
The Escalade would save Cadillac.  Its sales and outsized profits kept Cadillac alive long enough for Smith's longer-range all-inclusive "Art and Science" plan to be developed and implemented.
The story behind the "Art and Science" theme exposes the weaknesses of General Motors' management even more clearly than the Escalade's creation.  It is a story of a corporate culture that elevated decision-making to executives far removed from the divisions affected by those decisions, executives who lacked the expertise to make good decisions.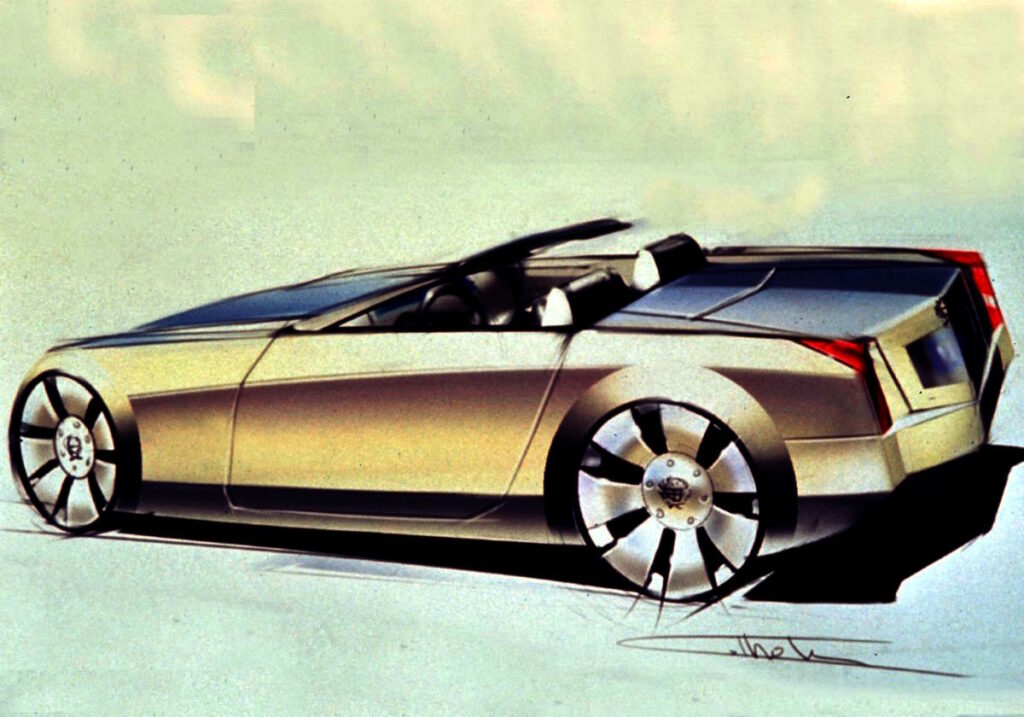 "Art and Science" was another area where Smith succeeded in getting Cadillac what it needed, despite the opposition of a corporate structure designed to deprive divisions of autonomy.  The central precept was a design theme that began with the Evoq concept car, was carried through into the first generation CTS, and then to subsequent generations of the CTS and to the XLR, SRX, ELR.    It was intended to make Cadillacs became instantly recognizable, with a family identity, one that stood apart from the blandness of import competition.  It was intended to convey Cadillac as a luxury brand of advanced technology, yet distinct from the bland rounded shapes of German luxury automobiles.
Success in creating this Cadillac identity at the division level would reverse the decline in Cadillac sales, as introduction of new models increased its sales and expanded its market – much to the delight of its dealers.
Yet quality – true quality designed and manufactured into the vehicle – would be denied to Cadillac.
Smith could not convince General Motors management, intent on centralized sameness, that quality mattered to a potential Cadillac customer and that competing with Lexus, Mercedes-Benz, and BMW meant producing quality equal to theirs.  Advanced features, though necessary, were not sufficient.  Quality required perfection in the basics of fit and finish.
Smith learned that Toyota ran the assembly line for Lexus at slightly more than half the speed of the assembly lines manufacturing Toyotas.  He wanted to adopt a similar approach in the assembly plants manufacturing Cadillacs.  But the General Motors Assembly Division had long before superseded Fisher Body and it now controlled how General Motors built its vehicles, including Cadillacs.  The effort went nowhere.  Cadillacs continued to be manufactured to the same standards as Chevrolets and an opportunity to restore Cadillac's reputation to match its motto as the "Standard of the World" was squandered.  Precision in fit and finish had elevated Lexus from nowhere into the top tier of prestige brands.  Rather than heed the obvious significance of Lexus's success, General Motors management would persist in trying to create profit from standardization and cost-cutting, rather than by creating the actual quality that leads to perceived prestige.
Despite the hurdles and obstacles, Smith succeeded in bringing Cadillac back from the brink, driving sales from 173,000 in 1996, immediately prior to his being named Cadillac general manager, to almost 250,000 in 2005, a few years after Smith left Cadillac by promotion in January of 2000 and a point by which the products planned when he was Cadillac's general manager were now on the market.  He's justifiably proud of what he accomplished at Cadillac.  Though ruing his losses, he clearly takes personal satisfaction in the wins.
Yet, it didn't last.
Cadillac's sales for 2019 – with a vastly expanded model range compared to 1996 – were only 175,000 vehicles.  Arguably, the brand remains in production only because of its sales in China.  The lessons taught in Mr. Smith's tenure as general manager were not learned.  Cadillac suffered through twelve different executives in charge of the division in the ensuing twenty years, a reflection of the impotence of those ostensibly in charge of the division to control, or even influence, what it sells.
Fin Tales suffers only one deficit.
Throughout the book, the reader is left with the impression that there is more to the story, that Mr. Smith has taken too much care not to offend those with whom he once worked and has diplomatically glossed over details that would add impact to the story of his successes and more fully illuminate the failures.  In particular, his praise for Ron Zarrella's belated support of the first generation CTS seems almost as though it were compensation for his criticism of the "brand management" structure Zarrella created, rather than the tardy epiphany it appears to have been.
Mr. Smith concludes with the expressed hope that the all-electric future now promised Cadillac will allow the brand to regain its prestige and place in the luxury car market.  He sees it as consistent with the brand's proper role as a leader in new technology.
Yet, Fin Tails is a story of management dedicated to a plan, a plan that not only dictated to the divisions and the brands, but to the customers.  "Brand management" was a concept that dictated a corporate structure designed to decide what was best for the customer, whether or not it was what the customer wanted, and to create brand identity by badge, not by creating quality.  The lesson implicit in each chapter of the book is that centralizing decision making at the highest levels, ignoring the wishes and needs of customers, and focusing on cost-cutting rather than product quality, assure failure – large scale failure.  Mr. Smith has contributed to the history of Cadillac, whether Cadillac ultimately succeeds in the next decade or fails.  But he has not told the whole story, and that is a story that would be worth telling.   It would be illuminating for Mr. Smith to write more about that plan and its impact, tracing its daily deleterious effects rather than merely highlighting the occasional heroic executive who bucked the plan.
Today General Motors is operating on one concept – that the automotive future is electric – and one platform for that future – the Ultium.  The decision to produce only electric Cadillacs is not one taken because the market wants them.  It is taken because General Motors management has decreed it.  General Motors is relying on government subsidy, rather than consumer desire, to promote sale of electric vehicles and to simultaneously burden internal combustion vehicles with higher costs and lower values.  It is attempting to create a market for the products it will produce by destroying the market for those it currently produces.
Fin Tails is the story of another era in which General Motors' management listened only to itself.
Smith, John. Fin Tales, Saving Cadillac: America's Luxury Icon, 1st ed., AVIVA, 2022.